Smog filled the air at dawn today. Birds swayed in and out of the frame, aimless. On the news people spoke about Mars, the equinox and the solstice, what do we have to say here in this letter?
---
I am Maneesh, this Bombay Daak. You may have signed up after reading this piece or this (or maybe this). If not tell me what got you here.
---
To break the grey around me we have some colour from Raed Al-Rawi that sets the platform for a fanciful poem by Ernest Tjia. This issue thus touches upon an unspoken (at least not often) truth of creative life - all art is inspired.
Flying
Brian Eno has created an ambience for more of these letters here than any other musician.
I write these letters in bits. Some start on a Sunday afternoon, and then wind up in a letter weeks later. The music keeps varying, but I drift into pieces like this one - [1/1] from Music for Airports.
And it is strange that I am listening to it, because what's got me started with this letter to you today is a poem called Mural of an Alligator in Aviation.
Mural of an Alligator in Aviation
by Ernest Tjia
At the Charlotte Douglas Airport there is a mural
featuring an alligator flying, wearing a yellow
dress shirt that has been tailored-fit to
act like a cape, and he has a red tie
that is parallel to his body in the wind, that looks
like it was clipped on instead of worn.
Of course, the trick is that it was indeed, painted
on, and I wonder what that says
about the Bank of America whose headquarters are
located on 100 North Tryon street.
I remember the bailout to the tune of twenty billion dollars
issued by the Troubled Asset Relief Program
in which some moneylenders and corporate suits
made a bad decision. Maybe two.
Or more. I've lost count. What I do know:
The first forms of modern insurance
predate the founding of the Republic
that issued the three-fifths compromise.
In capitalist ruins there is the figure of a woman
in a pantsuit, who has just bought ownership
of her first home, and plans to decorate it
with art, and flowers you can only get
from a specialty florist up in the Appalachians
who sells them by the double-dozen.
There are pennyworts and bloodroots and rue
anemones, accompanied by the sweet
southern twang, that awful lonesome
song of a Mountaineer.
More Raed Al-Rawi
I explored more of the Iraq born Al-Rawi's work and I've become a fan of his whimsy.
These flying letter boxes, so apt for this newsletter, gives us a sweet segue into another beautiful project that was born during the pandemic.
The Parameters of our Cage
Chris Fausto wrote a letter in January to photographer to Alec Soth. Which is alright, except that Chris is incarcerated in prison.
The Parameters of our Cage is a book documenting this exchange of letters between Fausto and Soth. At once a conversation of our times, at once a conversation for the ages, I am looking forward to this more than any other book this year!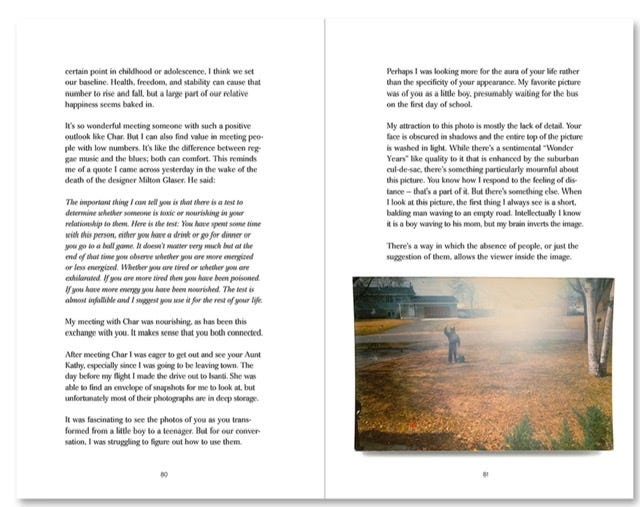 Pictures the contrast here, Fausto a jailbird caught within the walls and Soth a path breaking photographer who travels almost all the time for work. What did they learn from each other? What came of it? And to think all this came out of this pandemic year, at a time when their country has burned and stood divided and massacred by a virus. Letters accompanied by Soth's photos, give it to me already!
Inspiration
In most interviews Soth speaks about how one of his earliest inspirations was Summer Nights by Robert Adams. A young artist, picks up an object and desires to make something similar. But as in the case of Tjia and Fausto, inspiration can work in a manner that stands as a stage to take flight from.
---
---
Endnotes
I liked Alec Soth's new newsletter project, it is usually long, but it is unique

MACK's blog on Soth's first photo book - Sleeping by the Mississippi, is a great place to get context of his work

I am a fan of photo books in general as they fall into my logic of Objects vs Things better. We have previously spoken about Teju Cole's photo book in Daak. As part of writing this letter, I landed on a tour of Soth's library and its filled with photo books and albums and is generally a joy to see. I should probably also call this part of this issue Alec Soth.