An excerpt from the poem The Suburbs by John Burnside.
In this last letter for this year, I tell you the story of Bombay Daak.
I am Maneesh, and you are? (Are you?)
***
Bombay
I came to Bombay in the summer of 1996. In the summer between when I changed schools from Kottayam to Bombay India had changed three Prime Ministers. The country was however busy nursing the sentimental loss in the World Cup semis and was awash in the colours of cola wars.
***
By 2006 the things that defined my teens were gone.
In a matter of a decade I had gone from pocket money to pay slip. The Bombay I had arrived in now looked different. The suburban sense of self changed, wanting to be something else.
The apartment I grew up in was sold, broken, rebuilt like many others in the city. It wasn't just the landscape; cassettes, telephones, televisions, greeting cards, bicycles, friends - all morphed to something else. One July we were flooded, the next we are bombed. The city had changed, Bombay once again a palimpsest, new over old.
***
Change
In another ten years everything changes again. A city more modern and distant, a place more than home surrounds me. If I have to revisit my childhood, there's nowhere to go. I asked that question in a notebook. Where do you go when the place you grew up is gone?
***
Daak
Bombay Daak is a two year old project. I started it as a blog in 2018. I looked back at my time in the city and how much it had changed. I wished to hold on to the things I love about it; lest it be built over by something new or modern or something ancient like the rising sea. I wished to hold it in a place that hankers back to some old time.
I called it Bombay Daak because that was a train that ran between Bombay and Calcutta, carrying everything from mail to fish. It felt functional, nostalgic, felt right.
However, a never ending stream of posts didn't appeal to me. I like closure. I wanted it to be a project that had a beginning and an end. A year or so later I thought I'll make it a website about short stories. An online collection of short fiction.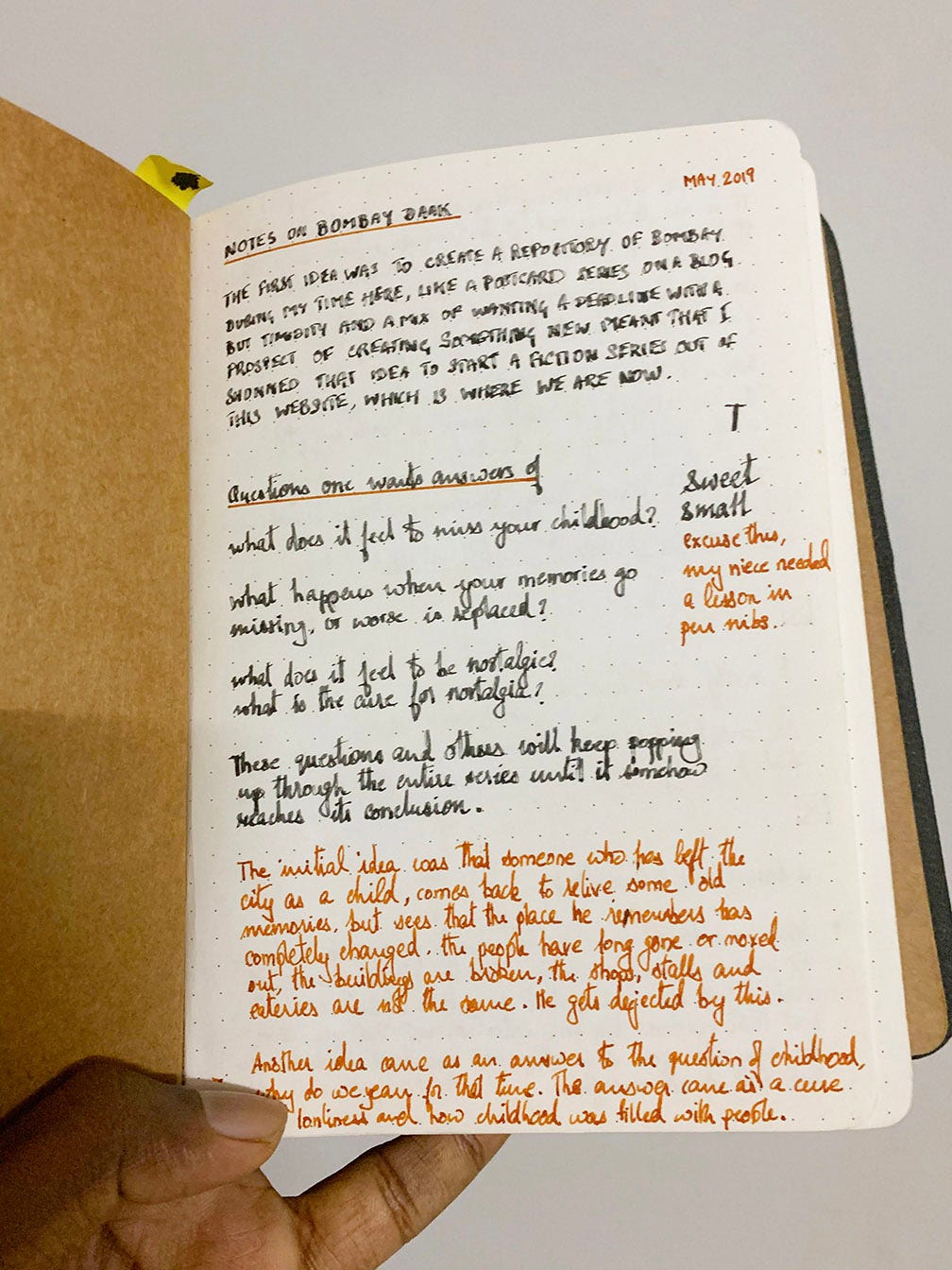 ***
This year I spent a tonne of time reading. I treated it almost as work and avoided streaming shows as much as I could. There was no reason to do it, the idea just caught my fancy.
By June I had finished four or five books that I had struggled to get going with in the previous years. And then my friend Farhin told me about Substack. And on a June afternoon with surprising motivation I launched this as a place to share what I'm reading. The name seemed apt, functional, nostalgic, right.
***
Seasons
Daak started as an experiment. It was an experiment in holding a conversation. All it wanted to be was not be a set of links. But the more letters were sent, the more it began to look like a never ending journal. I wondered what if there is an end to a newsletter?
Sometime in September as the Bombay rains subsided, I began thinking of the changing seasons. I thought of Daak and decided maybe newsletters too can work like the TV shows that come and go, changing with the season.
***
So like all stories, this one comes to its conclusion. After 25 letters of poems, essays and books and art, we now end this season of letters today.
I plan to be back sometime next year, for another 3 maybe 4 months. With what and in what form I don't know yet. Hopefully it will be better, less noise, more signal, less news, more letter. New things to write over the old.
And after that, we will see after that.
***
Farewell
I have a debt to you because you chose to pay attention to these weekly missives. The little replies that some of you would send meant the world to me. But the true reward for the newsletter is when you take the conversation forward, let someone else besides the writer know that it was good. And so this isn't goodbye. I want to keep the conversation up. This is also a good time for you to catch up on all the letters you've left pending, maybe read some again, share it with someone. And if you can't, then turn that around and tell me what could make you? :)
Thank you for reading, I hope you had a good time. Hoping you all stay safe and wishing the very best in the coming season of festivals.
Endnotes
I thought for a change I'd share this. These are the most read and shared issues of Bombay Daak this season:
Here're some newsletters I have enjoyed reading this season. Maybe you might too:
Scrapbook Chronicles by Hiut Denim Co. // It's odd to add a brand's newsletter here, but it is surprisingly good

Roden by Craig Mod // This is the first newsletter I ever signed up for long back

This is my newsletter is a great place to discover other artists/creators
I read a bunch of other newsletters but they are more in the space of science and tech and productivity. Let me know if you want to know about them.
That's that then!
In case you are interested, you can find me blogging on my website maneesh.net occasionally. :)
Adios, my dear reader.